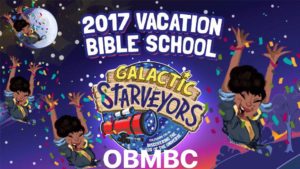 Vacation Bible School 2017
Vacation Bible School (VBS) is on! July 26 thru 30 (Wed ~ Sun) at OBMBC. Learning God's word through fun activities including action songs and visiting Chabot Space & Science Center. There is no fee (Free to all full time registered children) for 4 nights and 5 days VBS stay over… Learn more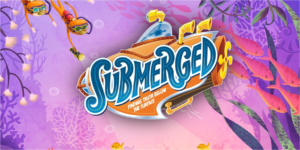 Vacation Bible School 2016
This year VBS is held at our church from August 3rd to 7th. The children will be learning Scriptures verses, Biblical lessons, Action Songs, play Sports, and in-door/out-door activities including Water World Park at Concord. There is no cost to your children to register for VBS… More » »
* * ¤ Work in progress…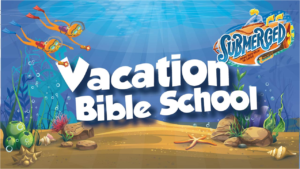 VBS T-Shirt / Student Class Materials (5 Lessons) / Various Art Projects (5 Themes) / 12 meals/ Snacks/ Water World Park ticket/ and Friendship.
There are two highlight events that parents and family members of VBS children are welcome and encouraged to attend.
August 6th (Saturday) at 7PM VBS children dedication service will be held in the Sanctuary. Join us for Spirit filled children worship and dedication service. On August 7th (Sunday), VBS closing worship service will be at 11AM
. Come and see how your children have learned throughout VBS and celebrate their achievements. VBS children will be dismissed at 2PM after the VBS family lunch.
Annual Retreat @ OBMBC
Growing High Impact Church Together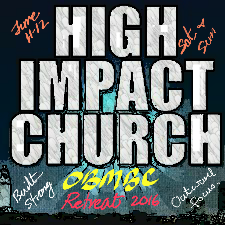 Two days and one night of learning together while having fun and fellowship among us. You are welcome to join us and learn about our tradition and value through this event. The event starts at 8:00 AM on Saturday June 11 and ends June 12 Sunday evening. Highlight of our weekend includes 3 theme lessons on how to grow high impact church, Sunday worship with our Guest Speaker from Myanmar, Rev. Banardo Young Adults' praise & worship, and bonfire night of fun & games.
Our church address – 534, 22nd Street, Oakland CA 94612
§
A day of Bible Study and Worship with
Rev. San Toe
Sunday, Dec 6, 2015
Bible Study: 11 am – 1 pm
Worship Service: 1 – 3 pm
You are welcome to join us for Bible Study & worship service. Come and witness Baptism and Communion with us. Please stay back for our Agape feast luncheon after worship service.
§
Annual Thanksgiving Service
Sunday, Nov 22nd @ 11 am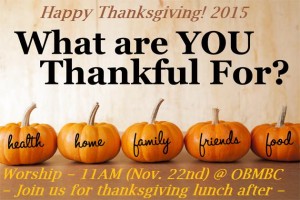 Let us come together with happy and thankful hearts to worship and praise to our Lord, the Provider, Jesus Christ. What are You thankful for? Let us share our heartfelt thanks to God and people in words, songs, and praises. We bring a symbol of harvest yields in our midst for a joyful thanksgiving service. Hope you come with your family and friends to worship Him who gives abundance blessings and to share a thanksgiving lunch together.
§
The Night of Praise, Prayer & Proffer
Musical Praises, Fundraising Night and Prayer for the victims of flood in Myanmar at OBMBC
Guess speaker – Rev. Moesi (Baptist Churches in
Myanmar)
Musicians – S. Aung Doo, Shane, & Smaller
(Christian Musician Fellowship)

§
Annual Picnic on August 8th 2015
Join us for Fun, Food, & Fellowship
9AM – 5PM
Del Valle Regional Park
7000 Del Valle Road, Livermore, CA 94550
§
Vacation Bible School 2015: G-Force
July 29th – August 2nd
Children ages between Pre-K through Teens are being invited. This year we will provide lodging and meals for 4 nights and 5 days along with Bible lessons, arts&craft, learning songs & dances, sports, and outing to Water Word at Concord with transportation. VBS begins July 29th (Wednesday) at 5PM drop off and pick up on August 2nd (Sunday) at 4PM. The rest of you and your family can join the VBS children for Water Park on August 1st with own expenses. Please also join us VBS closing program and see what your children have learned on August 2nd (Sunday) at 1PM in our sanctuary. The address for VBS program, lodging, and station is-
Oakland Burmese Mission Baptist Church
534 22nd Street, Oakland CA 94612
Online registration is open now to sign up for your children. The link is
https://docs.google.com/forms/d/1nfnsYBgQt7ZCA40rMCeJvgtCWkidAVo2-swXg6NZBvg/viewform?usp=send_form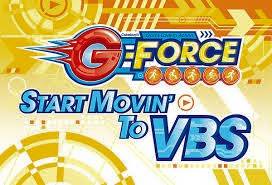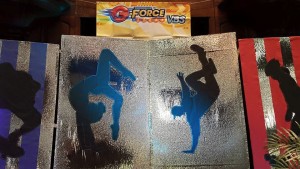 §
OBMBC Annual Retreat at Redwood Glen is on!
Register now! Come and enjoy beautiful nature and family oriented fellowship.
Theme = "Two for One and One for All"
Focus on practical communication and getting what you want in your relationships!
§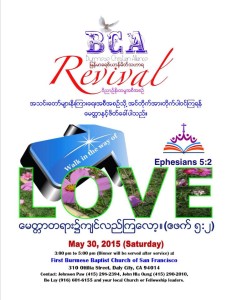 Walk in the way of LOVE

Burmese Christians Alliance
Place – First Burmese Baptist Church
310, Ottilia Street, Daly Ci
ty, CA 94014
Contact: Johnson Paw (415) 298-2394, John Hla Oung (415) 290-2010 & Bo Lay (916) 601-6155
§
Bible Seminar with Rev. San Toe
March 20 & 21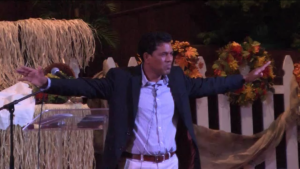 Dates – 3/20/2015 (Friday) – 5:00 PM – 9:00 PM
– 3/21/2015 (Saturday) – 4:00 PM – 9:00 PM
Place – OBMBC – 534, 22nd Street, Oakland CA. 94612
Please come an hour early to join us dinner and fellowship! All are welcome!
§
Hosanna! Hosanna! Hosanna!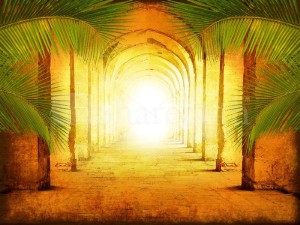 Please join us as we celebrate the triumph entry of our Lord Jesus Christ into Jerusalem.

English service with pastor Johnson at 11:00 AM – 12:00 PM
Burmese service with pastor Lone at 1:00 PM – 2:30 PM.
Stay with us for the Fellowship lunch after the worship service.