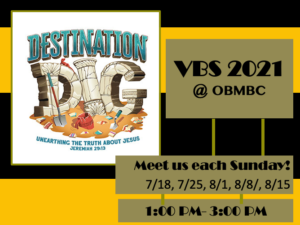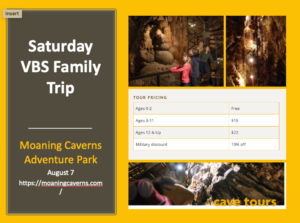 2021 – Vacation Bible School (VBS)
"Destination Dig"
Register here and volunteer for the wonderful children at OBMBC!!!
CALLING ALL JUNIOR ARCHEOLOGISTS TO JOIN !!
***We are having an in-person VBS this year on FIVE Sundays for 3hours***
| VBS program – Sunday 7/18, 7/25, 8/1, 8/8, 8/15
| Where: Oakland Burmese Mission Baptist Church
=> VBS Family Trip to "Moaning Caverns Adventure Park"
| Saturday 8/7
> https://moaningcaverns.com/
<
Registration and entire VBS Fees: FREE to All VBS children
Each year VBS children have been blessed. Many anonymous donations have been received to cover the VBS program expenses. Please help us to continue His ministry by generous financial gifts, which can be a rewarding way of making a difference in the life of His children. For detail information, please contact VBS Minister Rev. Dr. Lone Lazum (510-282-5107 Cell) or email to transform4one@gmail.com.
May God bless you and your family abundantly!
FOR MORE INFORMATION: Please contact us