Shepherd Leadership Academy
Advancing ministry leaders one at a time
(Equip, Enhance, Educate)
534, 22nd Street, Oakland CA 94612

"Feed the flock of God which is among you, taking the oversight thereof, not by constraint, but willingly; not for filthy lucre, but of a ready mind; neither as being lords over God's heritage, but being ensembles to the flock. And when the chief Shepherd shall appear, ye shall receive a crown of glory that fadeth not away." (1Peter 5:2-4)
Mission & Vision
The mission of Shepherd Leadership Academy is to advance ministry leaders one at a time. To equip ministry leaders, enhance leadership skills, and educate with biblical knowledge, we strike for achieving influential Christian ministry.
The vision of Shepherd Leadership Academy is making influential ministry leaders throughout all the nations employing biblical education and ministry experience. We believe in ministering the shepherd gifts, edifying believers, and academically magnifying Christ's body for the glory of God.
Educator Team:
Our leadership team recognizes that we are shepherds who serve under the Chief Shepherd, Jesus Christ. We desire to devote ourselves to prayer and the ministry of the Word. Our goal is to attain ministry advancement in local churches through advancing ministry leaders one at a time.

Rev. Dr. Lone Lazum
(B.Th., M.A.B.S., D.Min, Ph.D.)
Leadership Studies
As the primary teaching pastor, Pastor Lone has a passion for carefully unpacking the truths of Scripture. He currently serves as the Senior pastor at Oakland Burmese Mission Baptist Church for more than fifteen years. Pastor Lone also ministers among Bay Area Burmese Christians and academically working with churches and Hanson Baptist Bible college (HBBC) in Myanmar. He is a visiting instructor of HBBC in the Master of Ministry program. He also serving as the Congregational Resources Coordinator of the Alliance of Asian American Baptist Churches, USA. Pastor Lone holds a Doctor of Philosophy in Leadership from Piedmont International University, Winston Salem, North Carolina, and a Doctor of Ministry in pastoral leadership from Temple Baptist Seminary, Chattanooga, Tennessee, USA.

Rev. Dr. Naw San Dee (B.Th., M.Div., M.Th., Ph.D.)
Biblical Studies
Pastor Naw San Dee desires to teach the prospective ministry leaders and equipping them with biblical knowledge through Shepherd Leadership Academy. Pastor Naw as Senior Pastor and his wife Christie as the Sunday school educator serve together in San Francisco Kachin Baptist Church. Pastor Naw also serves on the Kachin American Association board and actively takes on a leadership role among the Bay Area Burmese Christians. Pastor Naw holds a Ph.D. in Biblical Studies from Brite Divinity School, Texas Christian University. He is passionate about equipping ministry leaders.

Dr. Jae Kim (B.Th., M.A.C.E, D.Min)
Christian Education Studies
Pastor Jae's role is to lead the ministry leaders through education program in local church in a way that matches the character of God. Jae is an accomplished seminarian, earned Master of Art in Christian Education (M.A.C.E.) from Golden Gate Baptist Theological Seminary, California (Now known as Gateway Seminary) and received Doctor of Ministry (D.Min) in Christian Education from Piedmont International University, North Carolina. She is ministering English language ministry and youth at Oakland Burmese Mission Baptist Church. She worked as educator and equipper on local churches in Singapore, Hong kong, Korea and currently in California. She is eager to share her gifts with the ministry leaders in local churches.

Pastor La Hkawng
(B.Th., M.Div., M.Th., Ph.D. Cand.)
History and Literature Studies
Pastor La Hkawng is currently engaged in Ph.D. doctoral project research while serving OBMBC as a teaching pastor. He graduated with a Master of Divinity from Myanmar Institute of Theology (MIT), Yangon. He continued to earn a Master of Theology degree from DET TEOLOGISKE MENIGHESFAKULTET, OSLO NORWAY. Pastor La Hkawng was formerly a lecturer at the MIT in Yangon. He has served youths, young adults, and students while he was in Myanmar. Recently, he has taught Baptist History and Heritage subject at Shepherd Leadership Academy. Pastor La Hkawng is married to pastor Mary with two beautiful daughters.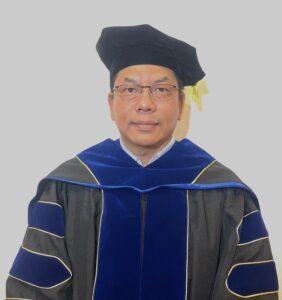 Rev. Dr. Laseng Labya
(B.Th., B.D., M.A., Ph.D.)
Biblical History Studies
Rev. Dr. Laseng Labya is formerly Academic Dean at Hanson Baptist Bible College (HBBC), Kachin State, Myanmar. On going instructor of HBBC for the Master of Ministry program. He is now Senior Pastor of Dallas Forth Worth Kachin Baptist Church, Grand Prairie, TX. He also currently serving as Assistant Principal and Instructor of Ola Hanson Bible Institute, USA. Rev. Dr. Labya is passionated to educate uprising tomorrow leaders of the ethnic churches. He is a founding member of Kachin American Baptist Association in the USA.
What we believe:
The Scriptures
The Holy Bible was written by men divinely inspired and is God's revelation of Himself to man. It is a perfect treasure of divine instruction. It has God for its author, salvation for its end, and truth, without any mixture of error, for its matter. Therefore, all Scripture is totally true and trustworthy. It reveals the principles by which God judges us, and therefore is, and will remain to the end of the world, the true center of Christian union, and the supreme standard by which all human conduct, creeds, and religious opinions should be tried. All Scripture is a testimony to Christ, who is Himself the focus of divine revelation. Exodus 24:4; Deuteronomy 4:1-2; 17:19; Joshua 8:34; Psalms 19:7-10; 119:11,89,105,140; Isaiah 34:16; 40:8; Jeremiah 15:16; 36:1-32; Matthew 5:17-18; 22:29; Luke 21:33; 24:44-46; John 5:39; 16:13-15; 17:17; Acts 2:16ff.; 17:11; Romans 15:4; 16:25-26; 2 Timothy 3:15-17; Hebrews 1:1-2; 4:12; 1 Peter 1:25; 2 Peter 1:19-21.
God
There is one and only one living and true God. He is an intelligent, spiritual, and personal Being, the Creator, Redeemer, Preserver, and Ruler of the universe. God is infinite in holiness and all other perfections. God is all powerful and all knowing; and His perfect knowledge extends to all things, past, present, and future, including the future decisions of His free creatures. To Him we owe the highest love, reverence, and obedience. The eternal triune God reveals Himself to us as Father, Son, and Holy Spirit, with distinct personal attributes, but without division of nature, essence, or being.
God the Father
God as Father reigns with providential care over His universe, His creatures, and the flow of the stream of human history according to the purposes of His grace. He is all powerful, all knowing, all loving, and all wise. God is Father in truth to those who become children of God through faith in Jesus Christ. He is fatherly in His attitude toward all men. Genesis 1:1; 2:7; Exodus 3:14; 6:2-3; 15:11ff.; 20:1ff.; Leviticus 22:2; Deuteronomy 6:4; 32:6; 1 Chronicles 29:10; Psalm 19:1-3; Isaiah 43:3,15; 64:8; Jeremiah 10:10; 17:13; Matthew 6:9ff.; 7:11; 23:9; 28:19; Mark 1:9-11; John 4:24; 5:26; 14:6-13; 17:1-8; Acts 1:7; Romans 8:14-15; 1 Corinthians 8:6; Galatians 4:6; Ephesians 4:6; Colossians 1:15; 1 Timothy 1:17; Hebrews 11:6; 12:9; 1 Peter 1:17; 1 John 5:7.
God the Son
Christ is the eternal Son of God. In His incarnation as Jesus Christ He was conceived of the Holy Spirit and born of the virgin Mary. Jesus perfectly revealed and did the will of God, taking upon Himself human nature with its demands and necessities and identifying Himself completely with mankind yet without sin. He honored the divine law by His personal obedience, and in His substitutionary death on the cross He made provision for the redemption of men from sin. He was raised from the dead with a glorified body and appeared to His disciples as the person who was with them before His crucifixion. He ascended into heaven and is now exalted at the right hand of God where He is the One Mediator, fully God, fully man, in whose Person is effected the reconciliation between God and man. He will return in power and glory to judge the world and to consummate His redemptive mission. He now dwells in all believers as the living and ever present Lord. Genesis 18:1ff.; Psalms 2:7ff.; 110:1ff.; Isaiah 7:14; Isaiah 53:1-12; Matthew 1:18-23; 3:17; 8:29; 11:27; 14:33; 16:16,27; 17:5; 27; 28:1-6,19; Mark 1:1; 3:11; Luke 1:35; 4:41; 22:70; 24:46; John 1:1-18,29; 10:30,38; 11:25-27; 12:44-50; 14:7-11; 16:15-16,28; 17:1-5, 21-22; 20:1-20,28; Acts 1:9; 2:22-24; 7:55-56; 9:4-5,20; Romans 1:3-4; 3:23-26; 5:6-21; 8:1-3,34; 10:4; 1 Corinthians 1:30; 2:2; 8:6; 15:1-8,24-28; 2 Corinthians 5:19-21; 8:9; Galatians 4:4-5; Ephesians 1:20; 3:11; 4:7-10; Philippians 2:5-11; Colossians 1:13-22; 2:9; 1 Thessalonians 4:14-18; 1 Timothy 2:5-6; 3:16; Titus 2:13-14; Hebrews 1:1-3; 4:14-15; 7:14-28; 9:12-15,24-28; 12:2; 13:8; 1 Peter 2:21-25; 3:22; 1 John 1:7-9; 3:2; 4:14-15; 5:9; 2 John 7-9; Revelation 1:13-16; 5:9-14; 12:10-11; 13:8; 19:16.
God the Holy Spirit
The Holy Spirit is the Spirit of God, fully divine. He inspired holy men of old to write the Scriptures. Through illumination He enables men to understand truth. He exalts Christ. He convicts men of sin, of righteousness, and of judgment. He calls men to the Saviour, and effects regeneration. At the moment of regeneration He baptizes every believer into the Body of Christ. He cultivates Christian character, comforts believers, and bestows the spiritual gifts by which they serve God through His church. He seals the believer unto the day of final redemption. His presence in the Christian is the guarantee that God will bring the believer into the fullness of the stature of Christ. He enlightens and empowers the believer and the church in worship, evangelism, and service. Genesis 1:2; Judges 14:6; Job 26:13; Psalms 51:11; 139:7ff.; Isaiah 61:1-3; Joel 2:28-32; Matthew 1:18; 3:16; 4:1; 12:28-32; 28:19; Mark 1:10,12; Luke 1:35; 4:1,18-19; 11:13; 12:12; 24:49; John 4:24; 14:16-17,26; 15:26; 16:7-14; Acts 1:8; 2:1-4,38; 4:31; 5:3; 6:3; 7:55; 8:17,39; 10:44; 13:2; 15:28; 16:6; 19:1-6; Romans 8:9-11,14-16,26-27; 1 Corinthians 2:10-14; 3:16; 12:3-11,13; Galatians 4:6; Ephesians 1:13-14; 4:30; 5:18; 1 Thessalonians 5:19; 1 Timothy 3:16; 4:1; 2 Timothy 1:14; 3:16; Hebrews 9:8,14; 2 Peter 1:21; 1 John 4:13; 5:6-7; Revelation 1:10; 22:17. III. Man Man is the special creation of God, made in His own image. He created them male and female as the crowning work of His creation. The gift of gender is thus part of the goodness of God's creation. In the beginning man was innocent of sin and was endowed by his Creator with freedom of choice. By his free choice man sinned against God and brought sin into the human race. Through the temptation of Satan man transgressed the command of God, and fell from his original innocence whereby his posterity inherit a nature and an environment inclined toward sin. Therefore, as soon as they are capable of moral action, they become transgressors and are under condemnation. Only the grace of God can bring man into His holy fellowship and enable man to fulfill the creative purpose of God. The sacredness of human personality is evident in that God created man in His own image, and in that Christ died for man; therefore, every person of every race possesses full dignity and is worthy of respect and Christian love. Genesis 1:26-30; 2:5,7,18-22; 3; 9:6; Psalms 1; 8:3-6; 32:1-5; 51:5; Isaiah 6:5; Jeremiah 17:5; Matthew 16:26; Acts 17:26-31; Romans 1:19-32; 3:10-18,23; 5:6,12,19; 6:6; 7:14-25; 8:14-18,29; 1 Corinthians 1:21-31; 15:19,21-22; Ephesians 2:1-22; Colossians 1:21-22; 3:9-11.
Salvation
Salvation involves the redemption of the whole man, and is offered freely to all who accept Jesus Christ as Lord and Saviour, who by His own blood obtained eternal redemption for the believer. In its broadest sense salvation includes regeneration, justification, sanctification, and glorification. There is no salvation apart from personal faith in Jesus Christ as Lord.
Regeneration, or the new birth, is a work of God's grace whereby believers become new creatures in Christ Jesus. It is a change of heart wrought by the Holy Spirit through conviction of sin, to which the sinner responds in repentance toward God and faith in the Lord Jesus Christ. Repentance and faith are inseparable experiences of grace.
Repentance is a genuine turning from sin toward God. Faith is the acceptance of Jesus Christ and commitment of the entire personality to Him as Lord and Saviour.
Justification is God's gracious and full acquittal upon principles of His righteousness of all sinners who repent and believe in Christ. Justification brings the believer unto a relationship of peace and favor with God.
Sanctification is the experience, beginning in regeneration, by which the believer is set apart to God's purposes, and is enabled to progress toward moral and spiritual maturity through the presence and power of the Holy Spirit dwelling in him. Growth in grace should continue throughout the regenerate person's life.
Glorification is the culmination of salvation and is the final blessed and abiding state of the redeemed.
Genesis 3:15; Exodus 3:14-17; 6:2-8; Matthew 1:21; 4:17; 16:21-26; 27:22-28:6; Luke 1:68-69; 2:28-32; John 1:11-14,29; 3:3-21,36; 5:24; 10:9,28-29; 15:1-16; 17:17; Acts 2:21; 4:12; 15:11; 16:30-31; 17:30-31; 20:32; Romans 1:16-18; 2:4; 3:23-25; 4:3ff.; 5:8-10; 6:1-23; 8:1-18,29-39; 10:9-10,13; 13:11-14; 1 Corinthians 1:18,30; 6:19-20; 15:10; 2 Corinthians 5:17-20; Galatians 2:20; 3:13; 5:22-25; 6:15; Ephesians 1:7; 2:8-22; 4:11-16; Philippians 2:12-13; Colossians 1:9-22; 3:1ff.; 1 Thessalonians 5:23-24; 2 Timothy 1:12; Titus 2:11-14; Hebrews 2:1-3; 5:8-9; 9:24-28; 11:1-12:8,14; James 2:14-26; 1 Peter 1:2-23; 1 John 1:6-2:11; Revelation 3:20; 21:1-22:5.
VI. The Church
A New Testament church of the Lord Jesus Christ is an autonomous local congregation of baptized believers, associated by covenant in the faith and fellowship of the gospel; observing the two ordinances of Christ, governed by His laws, exercising the gifts, rights, and privileges invested in them by His Word, and seeking to extend the gospel to the ends of the earth. Each congregation operates under the Lordship of Christ through democratic processes. In such a congregation each member is responsible and accountable to Christ as Lord. Its scriptural officers are pastors and deacons. While both men and women are gifted for service in the church, the office of pastor is limited to men as qualified by Scripture. The New Testament speaks also of the church as the Body of Christ which includes all of the redeemed of all the ages, believers from every tribe, and tongue, and people, and nation. Matthew 16:15-19; 18:15-20; Acts 2:41-42,47; 5:11-14; 6:3-6; 13:1-3; 14:23,27; 15:1-30; 16:5; 20:28; Romans 1:7; 1 Corinthians 1:2; 3:16; 5:4-5; 7:17; 9:13-14; 12; Ephesians 1:22-23; 2:19-22; 3:8-11,21; 5:22-32; Philippians 1:1; Colossians 1:18; 1 Timothy 2:9-14; 3:1-15; 4:14; Hebrews 11:39-40; 1 Peter 5:1-4; Revelation 2-3; 21:2-3.
VII. Baptism and the Lord's Supper
Christian baptism is the immersion of a believer in water in the name of the Father, the Son, and the Holy Spirit. It is an act of obedience symbolizing the believer's faith in a crucified, buried, and risen Saviour, the believer's death to sin, the burial of the old life, and the resurrection to walk in newness of life in Christ Jesus. It is a testimony to his faith in the final resurrection of the dead. Being a church ordinance, it is prerequisite to the privileges of church membership and to the Lord's Supper. The Lord's Supper is a symbolic act of obedience whereby members of the church, through partaking of the bread and the fruit of the vine, memorialize the death of the Redeemer and anticipate His second coming.
Matthew 3:13-17; 26:26-30; 28:19-20; Mark 1:9-11; 14:22-26; Luke 3:21-22; 22:19-20; John 3:23; Acts 2:41-42; 8:35-39; 16:30-33; 20:7; Romans 6:3-5; 1 Corinthians 10:16,21; 11:23-29; Colossians 2:12.
(Partially adopted from the Baptist Faith & Messages by SBC)