2018 Oakland Burmese Mission Baptist Church's Summer Spectacular | Vacation Bible School (VBS)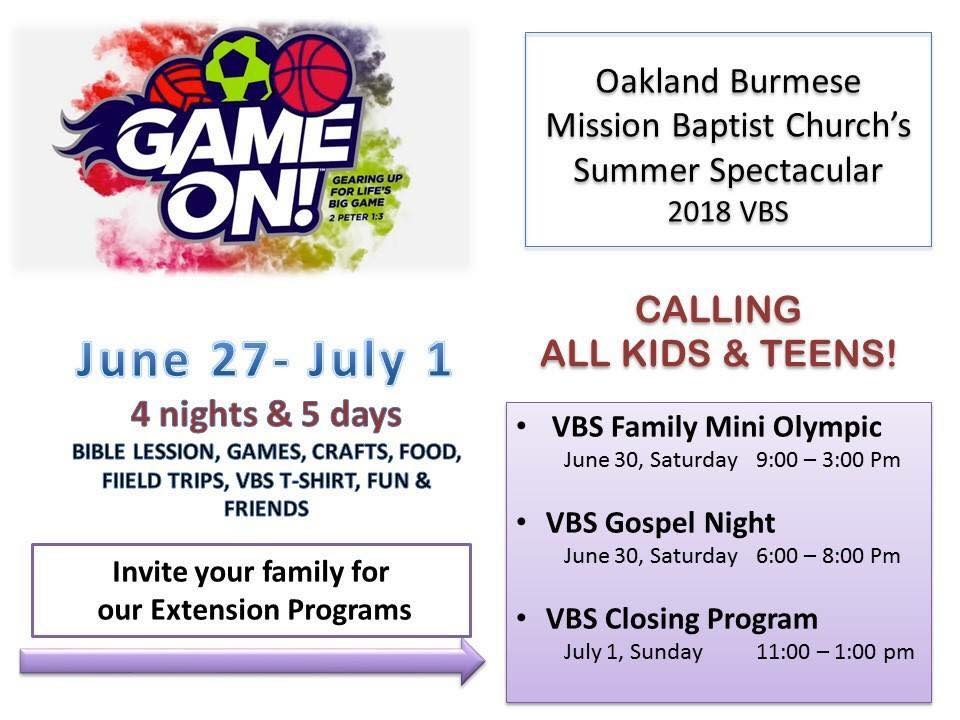 Register early and volunteer for the wonderful children at OBMBC
Invite your family for our Extension Programs
Vacation Bible School (VBS) is On!
Sat, June 30 · 9:00 am – 3:00 pm
Sat, June 30 · 6:00 – 8:00 pm
Sun, July 1 · 11:00 am – 1:00 pm
2018 Vacation Bible School (VBS) Registration Form
Packing List
Daily Outfit & Running Shoes
Clothing for 5 days & 4 nights
Sleeping bag & Toilet Essentials
Field Trip

Oakland Ice Center (Thursday) – Ice Skating Outfit
Great Western Power Co. (Friday)
Rock Climbing Outfit
¤
Registered and entire VBS Fees: FREE to ALL VBS children
VBS T-shirt

11 Meals & Snacks

5 theme Arts & Craft

Class materials

Sports & Games

Field Trips (Thursday & Friday)

Mini VBS Family Olympic (Saturday)

Gospel Night (Saturday)

VBS Closing Program (Sunday)
Each year VBS children have been blessed.
Many anonymous donations have been received to cover the VBS program expenses. We are please to say that this year VBS children are free of charge to join the programs. Please help us to continue His ministry by your free-will generous financial gifts, which can be a rewarding way of making a difference in the life of His children.
FOR MORE INFORMATION:
Please contact us
We like to invite you & your family for our Extension Program:
VBS Family Mini Olympic

June 30, Saturday | 9:00 am – 3:00 pm

VBS Gospel Night

June 30, Saturday | 6:00 – 8:00 pm

VBS Closing Program

July 1, Sunday | 11:00 am – 1:00 pm